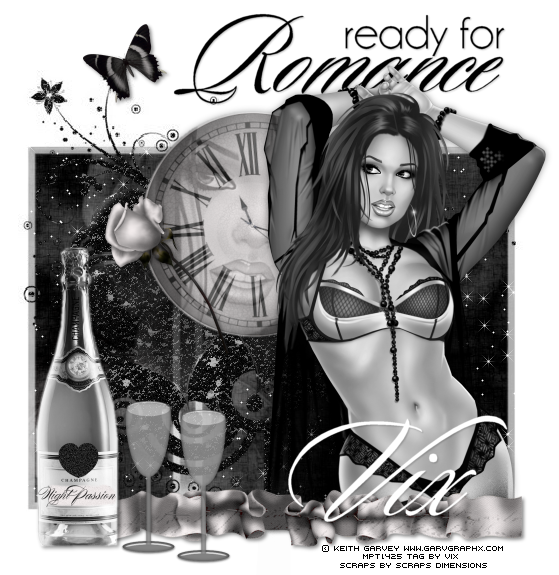 For this tag, you'll need...
Tube and Image/Close Up of Choice - I'm using the fab work of Mr Keith Garvey
To use the same - please visit MPT for more details

Scrapkit - FTU - "Night Passion" by Doris Nilsa @ Scraps Dimensions
To get the kit, go HERE and please leave a little thanks when you
take it xx

Mask - by Chelle, WSL_Mask148 - can be downloaded from her site HERE

Xenofex 2 Constellation - not a free filter

Xero Graphics Greytinter - free filter
__________________________
The Usual
Open NP Doodle Big
C&P
Place on the canvas
Open NP Butterfly1
Image, Resize 10%
C&P
Place as mine
Open NP Old Clock
Image, Resize 30%
C&P
Place as mine
Open your Close Up
C&P
Paste as a new layer
over the Clock
Xero - Greytinter on the default settings
then
Drop the Opacity
so you can see the clockface underneath
and
take Magic Wand with a Feather of 2
Click outside the Clock face on the clock layer
then
back to the Close Up layer
and hit Delete twice
Selections None
Now Drop the Opacity a bit more on your Close Up layer
I went down to 34
Paste your tube as a new layer now
and move over to the right of the tag
Either resize if needed or
Erase some of the tube if needed
I wanted to keep my tube large
but still wanted the background to show so
just see what it looks like for you
Once you've placed your tube
Xero Greytinter as before
and
Shadow of your choice
Note: If you, like me, keep the tube
largish, but erase the bottom
Use NP Ruffle, Resize 60%
and paste this as a new layer
over the tube layer
so it hides the erased bottom :)
Open the Champagne Bottle
Image, Resize 50%
C&P
Place as mine
Open Flute Glass
Image, Resize 30%
C&P
Place as Mine
Duplicate
and move the other one over to the right
Open Paper 4
Resize 75%
C&P
And Move down the layers to
just above the White Back
Apply Chelle's mask 148
Layers, Merge Group
and
Image, Resize 90%
and move down the tag canvas a bit if needed
then
on the Mask layer
Xenofex 2 Constellation
Look for the Preset called It's Full of Stars
and Drop the Overall Star Density to 1
and
make sure in the Background Fill section
that Keep Original Image is chosen
OK to apply
Open the Rose
Image, Resize 20%
C&P
Place as mine
Now
Apply a shadow to the
Rose
Bottle
Butterfly
Ruffle
Use, 2, 2, 45.00, 5.00 Black
On the Clock layer
use 0, 0, 40.00, 10.26 Black
Now
Using Black Fill and No stroke
Take a favourite font
and add some words behind your tube
I used
Ready for Romance (!) lol!
But use whatever you like
and then dropshadow
1, 1, 20.00, 2.00 Black
for the words
Not too blurry :)
OK
Now your name
Shadow as liked
and add artist info as needed etc
Crop the tag now to elimate some of the no longer needed space
Delete White Back
Save as .PNG
Have fun!