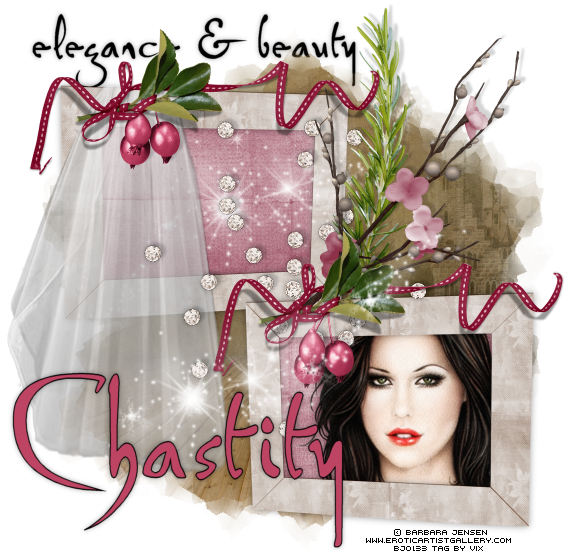 Tube Close Up of Choice - I'm using one by Barbara Jensen

which you can get from her site HERE (Over 18's only as the site

contains artistic nudity)


Scrapkit - "Framboise" by Latham, Lya and digiscrap.ch HERE

It's a FULL SIZED Collab from www.digiscrapbooking.ch and at

the time of writing (25th Nov)it was a freebie to download...so be quick!

If it is PTU when you see this tutorial, then I'm sorry 'bout that and

if you really want to do this tutorial, then you'll need to purchase it...or

not do the tut lol xx


Mask - I'm using WSL_Mask220 by Chelle Weescotslass which

you can download from her tut site which is linked over on the right

under Cool Supplies


Mura Meister Copies


Scripty Font of Choice
This tag is for Chas, who writes amazing tuts and makes
gorgeous tags :)
________________________________
The Usual
then
Open Lya Design (19)
Image, Resize, 20% SS
C&P
Move to the top left-ish of the tag canvas
Duplicate
Image
Mirror
Line up as mine on the bottom right
Open latham_element36 - (ribbon and leaves)
Image, Resize 10% SS
C&P
Place as mine
Open latham_element32
Resize 5% (yup, small!)
C&P
Place UNDER the element 36 as mine
Open Lya Design (p4) a stunning paper!
Image Resize 15%
C&P
Place just above the White Background in the LP
and apply Mask - Chelle's Mask WSL_Mask220
Layers, Merge, Merge Group on the mask layer
and
then Duplicate the mask layer
open latham_element25 (it's in the other folder)
Image, Resize, 10%
C&P
Line it up under the ribbon and leaves element on the right
Open latham_element20
Resize 10%
C&P
Line up as mine under the previous elements (not the frames though)
Open latham_element19
Resize 10%
C&P
Move to the top of the LP
(Layers, Arrange, Bring to Top)
and
apply a dropshadow 0, 0, 35.00, 7.00
and then
Mura Meister Copies
set to
Star Cluster preset and change the Shift X and Shift Y sliders to 64
OK to Apply
and once applied, Adjust, Sharpness, Sharpen
and move under all the elements in the LP except the frames
Open latham_element37
Resize 20%
C&P
Place as mine lined up with the top left frame
and move down the LP
so it's under the scattered gems
Now let's fill the frames and then finish off with a few
more elements lol!
OK - choose a paper
I used
latham_papier8
Image, Resize 15%
C&P
Do a Selection Delete with an Expand of 8 on the frame layer
and delete the paper excess
Selections None
So now your frames have a paper fill
so choose your image/close ups to use
I chose to use just one
and placed it in the bottom frame
I also duplicated, blurred and soft light on the Top tube
and applied Xero Greytinter to the bottom tube
and also a drop shadow
then
did a Selection Delete as before
Tip: I also deleted two of the gems that were covering
her eyes lol!
Now for some shadows
See which elements you think need a shadow and add one
I used
-3, 5, 17, 3.00 Black to the berries, lavender, gems and cherry blossom
Open Lya Design (5)
Image, Resize
30%
C&P
Place as mine
I placed one under the gems in the top frame area
and then
Pasted again and placed over the bottom of the curtain
Tip: you may want to floodfill the White Back
with a dark colour so you can see where the white sparklies are
You don't want to chop them off when done - so
I tend to do this so I can check lol - once checked, you can change back to White
Crop the canvas now to a more taggy size and take care
not to chop off the white sparklies or shadow edges
On the Frames layers,
Apply a shadow of 0, 0, 40.00, 10.26 Black
Now taking a favourite scripty font, type some wording that
applies to the tag and place on the top left as mine
and add a subtle shadow (the one I added to the gems first will do)
Then
use a colour from the tag and Stroke of 1
and add the name
Then Shadow as before
Add your artist info etc
and
Delete the White Background
All done :)
Thanks for looking xx