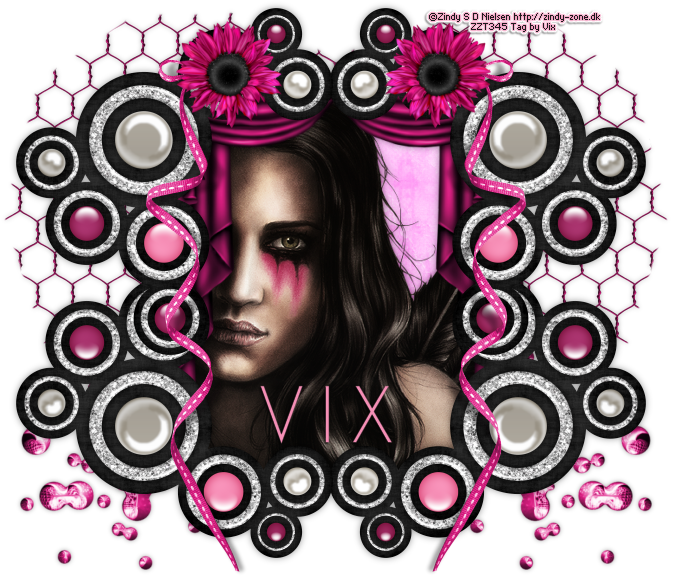 Supplies Needed

Image or Tube of Choice - I'm using a fantastic one by Zindy Zone
Please visit her site and purchase IF you'd like to use the same one

Scrapkit - it's mine called "Pinked" and available from Clarey's shop
for the next week, not sure where it'll be after that lol - so if you'd
like it - please go HERE
This kit is now a FTU - freebie!! Go HERE

Basic Sans Serif Font of Choice

This tut is a copy and paste tut, no filters needed
________________
The Usual - but make your Tag Canvas 700 x 600 pixels
You can either crop later or start smaller :)
Add New Layer
FF White
Open Pinked BradCluster
C&P
Place to the top right of the tag canvas
Duplicate
Image
Mirror
and move this one over a little more to the left
Hide Background Layer
Merge Visible the two cluster layers
Keep hidden for the moment
Then
Duplicate this merged layer
Image
Flip
and
Move this flipped layer down the LP so it's below the first cluster layer
Merge visible these two cluster layers
Now, unhide background layer
Open Paper12 (or another of your choice)
C&P
Move under the frame layer in the LP and position as liked
then
Do a Selection Delete on the frame layer expanding by 6
and hitting Delete on the Paper layer
Open PinkedCurtains
Resize 80% SS
and then
C&P
Place under the frame layer in the LP
and apply a favourite shadow to it
I used 0, 0, 40, 10.00 Black
No need to do a Selection Delete on this layer, it doesn't show under the frame :)
OK
Open ChickenWire
C&P
Place to the top right of the tag canvas under all layers
except the White Back
then
Duplicate
Image
Mirror
Open the PinkedFlower (the action made one, it's pink!)
Resize 60% SS
C&P
Place as mine to the top right of the tag canvas between
over the pink brad part of the cluster
Duplicate
Image
Mirror
Open the PinkedRibbonBow
It comes pre-shadowed
C&P
Place it under the right flower
Duplicate
Image
Mirror
I erased the pieces of ribbon that were showing above the flowers
but this is personal choice - if you'd like them to stay, then fab :)
OK
Open SplatPinkGlitterBall
C&P
Image
Flip
Place to the right of the tag canvas
Under all layers except the White Back...well, obviously lol!
Duplicate
Image
Mirror
Now
Open your chosen Image or Tube if you're using one instead
Then
C&P
Place under the frame AND curtain layers in the LP
and do a Selection Delete as before for the tube layer
Crop the tag canvas now - I got down to 673 pixels by 580 pixels
Tick to Crop
Now - shadows!
OK, add a shadow of - 0, 0, 35, 7.00 Black to
the flowers, chicken wire and splats layers
and
Add the same shadow used for the curtains layer, to the frame layer
Using your dropper tool
Find a light colour in the tag you like (or dark, we're going
to be placing this across the middle section of the frame so
choose what will look good with your image)
and
add this to the Background Materials box
Have the Foreground box on Null
Go to Text Tool - and find a good basic sans serif font (plain, no squigglies lol!)
and
If you've a short tag name like mine, up the Kerning as needed - I went to 200
then
Type your name
and once happy with size and placement
Add a dropshadow, I used 1, -1, 52, 2.00 Black
Add your artists info
then
Delete the white back
and
save as a PNG!
All done :)
This tutorial was written 14th October 2010