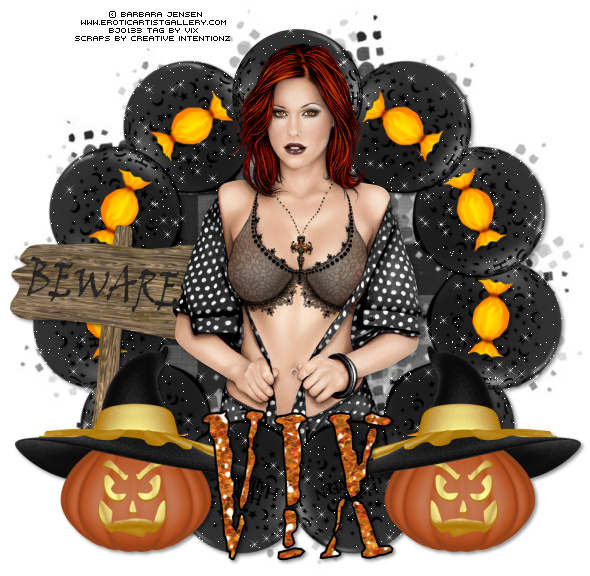 Tube of Choice - I'm using a beautiful Halloween version of Barb's work :)

Artwork © Barbara Jensen and used with license

Please go to Barb's site for more info on obtaining her tubes (note: her site has some adult content)


Scrapkit - FTU called Muwahahahaha by Creative Intentionz
You can download it from her blog


Mask - Vix_Mask147 - it's still my most popular mask to date :D

Thanks to everyone who has used and enjoyed it xx

If you don't have it already - go to my tutorial site

and look at the Goodies page, Masks


Mura Meister Copies - freely available on the Net


Xenofex 2 Constellation (optional) - not a free filter
________________
Open a New Image - cop a guess how big?
600 x 600 pixels! Yeeeeees lol!
Then what?
That's right - add a New Layer
and floodfill White
Oh, never let it be said I'm nothing if not constant lmao!
Sorry, having a funny 5 mins...right...on we go...
Open Paper 13
Image, Resize and change to Pixels as opposed to Percent
then resize 600 x 600 Pixels
C&P
Then Apply my Mask - Vix_Mask147
to this paper layer
Layers, Merge Group
Open Balloon 1 (the black balloon)
Image, Resize (change it back to Percent from Pixels)
40% Smartsize
C&P
Position in the centre of the tag canvas
then
Mura Meister Copies
Have it on the Encircle preset
and change the Shift X and Shift Y sliders to 65
and the Number slider to
11
Apply
Open the Jack O Lantern
Image, Resize 60%
C&P
Position over to the left of the tag canvas (see mine for ref)
Duplicate
Image
Mirror
Open the Beware Sign
Image, Resize 60%
C&P
Move over to the left and below the Jack O Lantern layer
Open your chosen tube
C&P
Make sure it's above the balloon frame layer
Duplicate
and move the duplicate down below the balloon frame layer
in the Layer Palette
Add a good dropshadow to the bottom tube (hide the top tube for now)
then
using Magic Wand
Click inside the Balloon frame layer
Selections, Modify, Expand by 6
Selections, Invert
and
Taking your Eraser tool
Erase the bottom tube where it's at the bottom of the tag canvas (you
might want to hide the Balloon frame layer so you can see what you're doing)
Selections None
Unhide the Balloon Frame layer and top tube layer
and now, on the top tube layer, erase the legs of your tube so it looks
as though it's coming out of the frame :D This is a method very
familiar to my tutorial site followers lol! But hey! It works hehe xx
Right then, some finishing touches...
On the Balloon Frame Layer
Xenofex 2 Constellation on the Glimmer Preset
but change the Star Size to 2.00
and the Overall Star Density to 1
and
(optional)
Open one of the Sweets elements (I used Sweet 4)
Image, Resize 20%
C&P
then Apply the Mura's as before
then
Move down the Layer Palette to just above the Balloon Frame
and then
erase the couple of sweeties at the bottom between the Jack O Lanterns
Now on all layers except tube and mask layers
- apply a drop shadow of
2, 2, 45.00, 5.00, Black
Now, crop the canvas
Apply your name in a spooky font and style of your choice
(I use a glitter fill which I can't supply - sorry xx)
then shadow as before
Now,
add your Artist/Copyright information
and
save your work as a Transparent PNG (delete the White Background)
All done xx
This tutorial was written on 20th October 2009 by Vix
It is a tutorial based on a tag of my own design created
this morning and
any potential similarities to other tag tutorials that
may be available is wholly unintended and completely coincidental.
Links to tube/scrap blogs or sites are added either through necessity or creator courtesy,
and it is entirely up to the individual (ie. You!) if you choose to visit these sites and/or download/purchase from them.