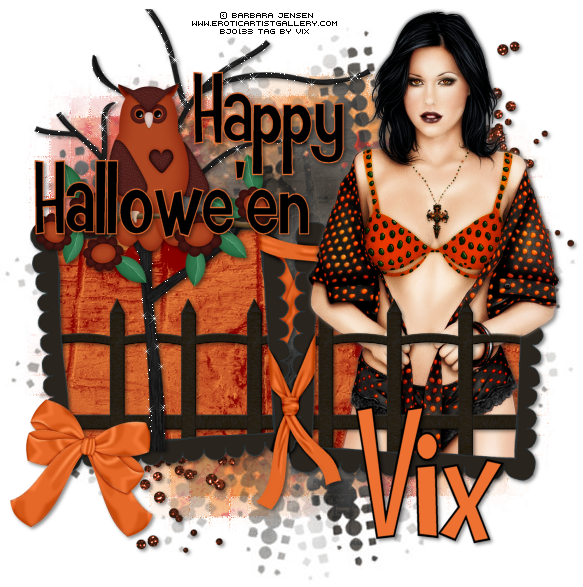 For this tag you will need...
Tube of Choice
- I'm using a beautiful Hallowe'en tube by
© Barbara JensenScrapkit
- I'm using
Spooky
mainly, but one element each from
It's Fall
and
Rock N Roll
All FTU by Bel Vidotti - and are available for download from her blog
HERE
Note: Bel's TOU state that she does not require credit on tags :)

Masks - Vix_Mask365 and Vix_Mask147
Both by...well, me lol! And are available from my
tutorial website on the Goodies page
HERE

Mura Meister CloudXenofex 2 Constellation
___________________________
Do the usual
then
Open e51 (the black dual frames)
Image, Resize 70%
(a little note, when I say to resize Images that are not
on the current tag canvas - then please assume Resize All layers is ticked...fankees xx)
C&P
Place centrally but towards the bottom of the main tag canvas
You need to leave room for your tube to go in the frame as mine
OK
Open e14 (the fence)
C&P
Place under the Frame layer and move
down so the black edges meet
and the fence looks like part of the frame
Leave this for now we'll do some deleting etc in a mo...
Open e16 (the tree)
Image, Resize, 70%
C&P
Place as mine over to the middle of the left frame
and above the frame layer
Right, let's sort the papers and stuff and then come back
to some more elements and tube...
So
Go to the Papers
and get
p25
Image, Resize, Change to Pixels from Percent
and make it 600 x 600 pixels
C&P
Move down the tag canvas to just above the White Back
and
Apply my Mask 365
Layers, Merge Group
Duplicate Mask layer
Open p30
Resize as before
but don't C&P yet - first, go to
Mura Meister Cloud
look for the Fog preset in the
dropdown menu
and change the Amount slider to 55
Apply
Now, C&P
above the other two mask layers
and apply my Mask_147
Layers, Merge Group
Move this mask layer a little if needed
I moved it down the tag canvas a bit
Open p28
Resize as before
C&P
above the other paper layers
and position within the two frames
Magic Wand on the usual settings
Click inside the frames
Selections, Modify Expand by 6
Invert and hit Delete on the paper layer
Selections None
Right, now then - we're whizzing off to some of Bel's other
kits for some elements :) So go to It's Fall
and find ifel19
(The owl on the branch)
Image, Resize 50%
C&P
and place as mine above the other layers
Now, whip over to her Rock N Roll kit
and find GlitterGel04
Image, Resize 60%
Adjust, Hue and Saturation, Colourize
Hue 11 and Saturation 172
C&P
Place as mine on the top right
Duplicate
Image
Mirror
Image
Flip
and move these two gel layers
below the frames and paper layer
Jiggle the placement around a little if liked - I did :)
Back to Spooky kit
Open e31 (orange bow)
Image, Resize 40%
C&P
Place on the bottom left as mine
Now then, our tube
Open it
C&P
Place over on the right hand side frame
and
then when placed
as liked, move under the fence and frame layer
Note: you can add any tube effects you may use to it now, perhaps
one of the ones in my other tuts (Blessed or Spookyluscious)
Duplicate the tube
Move a copy above the fence and frame layer
Apply a dropshadow to the bottom tube layer if liked
and also
apply to the fence layer too...
Now
take Magic Wand again
Select and Modify as before (right frame only)
then
Selections, Invert
BUT
Take your Eraser tool
on a smallish but hard setting
Size 60
Hardness 100
Step 5
Density 100
Thickness 100
Rotation 0
and
Opacity 100
Hide the top tube
and on the bottom one
Erase any tube that is sticking out under the frame layer
at the bottom
Go right up to the Selected part
Selections None
Now reselect both the inner frames
and modify expand as before
and this time
Now
Activate the Fence layer
and
simply
Selections Invert and
Hit Delete
then
Selections None
Unhide the top tube
Take your eraser again
and erase any parts you want/need to
so your tube looks like it's coming out of the frame and under the fence too
It might be fiddly and you may need to hit Undo if you erase too much etc
So have a few goes and get a result you like
You may need to change the eraser to a gentler setting -
Change the Hardness to 25 if needed
NOTE:
If this is far too fiddly and you have problems getting a good erase result
then, delete the fence layer entirely and just have the tube coming out of the frame
using the same erase process as above.
OK
On the Tree layer
Xenofex 2 Constellation
Star Size 2.00
Size Variation 100
Edge Star Density 3.00
Overall Star Density 0
Overdrive 100
Twinkle Amount 75
Twinkle Rotation 45
Apply
Now apply a dropshadow to the tree layer
I used 2, 2, 45.00, 5.00, Black
Apply same shadow to Owl, GelGlitters, Bow
and Frame Layers
Finally,
Add your name taking a colour from the tag as
your fill, Black 2.00 stroke
and apply with shadow too
Add some wording if liked too - Happy Hallowe'en or
similar :)
Then
Artist Copyright info
Crop the tag canvas as liked
and
guess what...yup, delete the White back
and save as transparent .PNG
Have fun blogettes!!